PepsiCo partners with FoodClique to distribute more than 1 million meals to the most vulnerable communities impacted by the COVID-19 pandemic.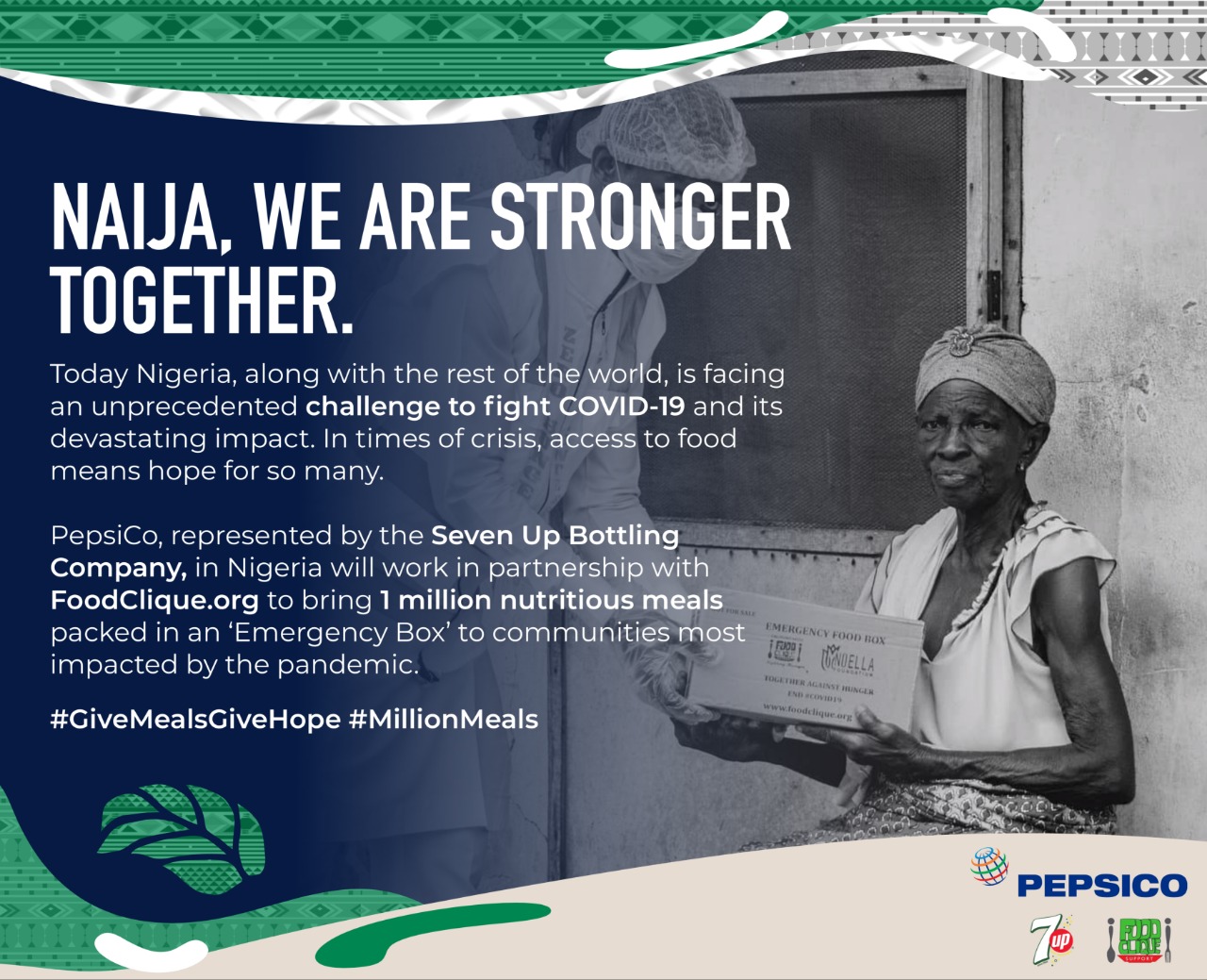 Lagos, 21st May, 2020 – PepsiCo Nigeria today unveiled a 1 Million Meals initiative to provide meals to vulnerable communities amidst the COVID-19 crisis. This initiative led locally by PepsiCo and enabled by The PepsiCo Foundation – the philanthropic arm of PepsiCo,will serve more than 1 million meals to communities most impacted by the socio-economic crisis caused by the pandemic.
The COVID-19 pandemic and lockdown has worsened the existing food insecurity situation in Nigeria.In response to this unfolding global social and economic crisis, PepsiCo is committing to supporting and partnering with reputable NGOs to target communities and alleviate the impact of COVID-19. The #GiveMealsGiveHope initiativewill be rolled out in partnership with FoodClique– local NGO experts, fighting hunger by identifying the most vulnerable communities through their volunteer network and working with community leaders.
PepsiCo's Sergio Paya, General Manager Sub-Saharan Africa Beverages said,
"We launched the Give Meals, Give Hope program to meet the basic needs of the most impacted segments of the Nigerian population, as food is at the heart of what PepsiCo does. As one of the leading food and beverages companies in Nigeria and across the African continent, we believe that we have a responsibility to focus on providing essential food items to those affected by this pandemic."
FoodClique's Founder and CEO, Bolajoko Fadipe explains,
"We are on the forefront of the fight against hunger in Nigeria. The current pandemic has exacerbated the need for food across the country. Through the Give Meals Give Hope partnership with PepsiCo we will be able to organize food boxes and leverage our network to distribute to those who need support the most."
The #GiveMealsGiveHope relief initiative is part of a US$45 million global initiative launched by PepsiCo and The PepsiCo Foundation, focused on helping people and communities most affected by this devastating virus. The company is funding vital support including protective gear for healthcare workers, testing and screening services, and is already in the process of distributing more than 50 million nutritious meals to at-risk populations by supporting Food Banks and other partners around the world.
About PepsiCo
PepsiCo products are enjoyed by consumers more than one billion times a day in more than 200 countries and territories around the world. PepsiCo generated more than $67 billion in net revenue in 2019, driven by a complementary food and beverage portfolio that includes Lays, 7UP, Gatorade, Pepsi-Cola, Sting, Kurkure and Tropicana. PepsiCo's product portfolio includes a wide range of enjoyable foods and beverages, including 23 brands that generate more than $1 billion each in estimated annual retail sales.
Guiding PepsiCo is our vision to Be the Global Leader in Convenient Foods and Beverages by Winning with Purpose. "Winning with Purpose" reflects our ambition to win sustainably in the marketplace and embed purpose into all aspects of the business. For more information, visit www.pepsico.com.
About The PepsiCo Foundation
The PepsiCo Foundation: Established in 1962, The PepsiCo Foundation, the philanthropic arm of PepsiCo, invests in the essential elements of a sustainable food system with a mission to support thriving communities. Working with non-profits and experts around the globe, we're focused on helping alleviate hunger, managing water and waste responsibly and supporting women as champions of nutrition from farm to family. We strive for tangible impact in the places where we live and work—collaborating with industry peers, local and international organizations, and our employees to affect large-scale change on the issues that matter to us and are of global importance. Learn more at www.pepsico.com/sustainability/philanthropy.
About FoodClique
A Non-Profit Charity Organization that stores and distribute purchased or donated perishable and non-perishable foods to the food insecure people through community outreach and partnership with other agencies.Since inception FoodClique has been at the forefront of fighting wide spread hunger, using various programs, among them are a community kitchen, Free School meal program for children of low-income parents, Bag of Hope for the elderly, Inmate Relief Program for prisoners, After Hunger Rehabilitation program, Food Hampers for the Destitute or Homeless, Food for Tot.