FoodClique Support Initiative (CAC/IT/NO 54151) is a Non Governmental Organisation (NGO) striving to end hunger. We help anyone who suffers from hunger – from kids who do not get enough to eat, to the homeless, elderly, physically challenged, low income and those below poverty level.
We distribute both perishable and non-perishable food item, which are either donated or purchase, educate the public about the problems of hunger and advocates for legislations that protects people from going hungry.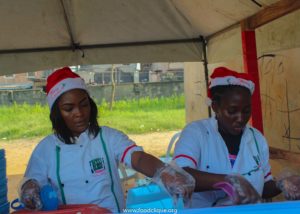 We work to reduce food waste, feed the hungry, educate the public about the problem of hunger and advocates for legislation that protects people from going hungry.Since inception we have been at the fore front of fighting hunger, using various programs, among them are a community kitchen, Free School meal  for children of low income parents, Bag of Hope for the elderly, Inmate Relief Program for prisoners, After Hunger Rehabilitation program, Food box for the Destitute or homeless.
Over time, we have built a reputation because of the truth and dignity we have upheld in the discharge of our duty to humanity which brought our partnership with Access Bank Lagos City Marathon for 2016 and 2017. CSR partners for Cantagali, Share Your Bread, Enabled Jobs, St Saviours Ikoyi, Corona School, Netherlands International School, BTA Foundation among others.
Our feats have been commended by World Food Program (WFP),Share Meal(USA),ONE (USA), Agent of Hope(USA) and also featured on eNews South Africa as a leading hunger relief NGO in Nigeria while we were giving a speaking slot at the 2018 University Fighting World Hunger summit at the University Of Illinois ,Chicago and the 5th Annual Food Waste & Hunger Summit at IUPI Indiana ,USA